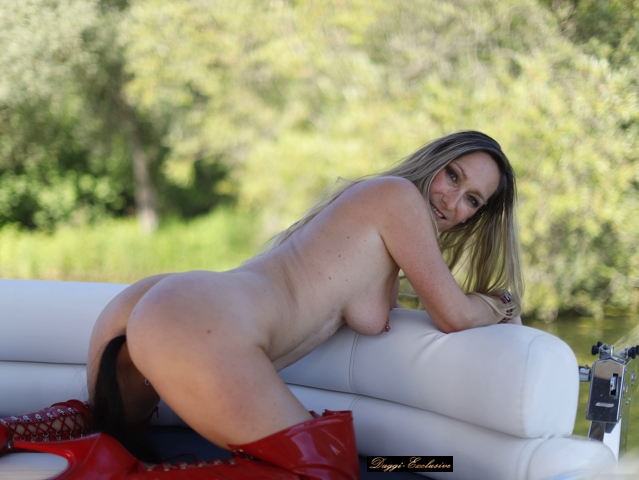 I have been married to Steve, my husband, for over 10 years. We met in a swingers club and had fun together before we knew each other's names.

In the course of our involvement, I felt again and again and more often that I wanted to subordinate myself to Steve.
We talked about it a lot and a kind of submissive feeling developed in me. This feeling became more intense, Steve more dominant.
Then one day, about five years ago, Steve came and asked me to kneel down in front of him, in the starting position, we were already there. "You know what's going to happen now," said Steve. I had a feeling, Steve: "stay in the ground position or stand up, it's your choice." I got hot and cold at the same time. I stayed in the home position. Steve turned around, went away for a moment and came back with a box. I'm sure my collar. So he did, he put it on me and said I was now his mare, his property. He was so excited, he didn't say a word.
So I knelt before him, before my master. My trembling, my excitement, I could probably hide. I bowed before Him in thanks that I was now finally his mare. Since that day, I wear my collar, I am his property. The excitement gave way to pride, more and more.

Today, some years later, I can't imagine it any other way than being a good mare to my Lord. He takes care of me, dresses me, spoils me and challenges me.

A little more than two years ago, I lay in bed next to him in the evening. The visit I had fun with before had just left, my master said that he wanted me to register, register as a prostitute. The same hot and cold waves went through my body as when I had the collar on. In the days that followed, I kept thinking about it, constantly thinking that I would become a prostitute (his). I could have said no, no that I didn't want to. I didn't think of that at all. I just thought about what it would be like to be officially registered as his hooker.

The excitement on the day when it was supposed to become reality, you can surely imagine standing in front of the office, waiting to be called up and tell them that you want to be registered as a prostitute.

Two employees there, look at me, they knew beforehand what it was about because you have to make an appointment. I was sitting next to my master, in black leather overknees, wet look leggings, with open transparent blouse and collar. After a felt eternity and constant patterning of two pairs of eyes, I was handed over the identity card. My master stood up, thanked me and said loudly, come mare. I was sooo very embarrassed by the situation, but also somehow horny. To be looked at all the time like that. How? I think you know how I mean it. The ID that you get and that identifies you as a prostitute, I always have with me now.
That was over two years ago. Since then I'm a hooker and I go to work as a prostitute besides my main job.

I am really greedy for it.
---
---